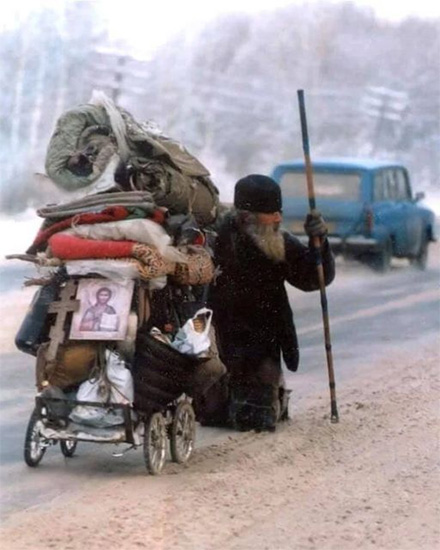 Ignoring the ridicule, Russian old man Alexander Kanishev travelled the distance from the Diveevski Monastery to the Trinity-Sergiy Lavra (400 km) on his knees for 9,5 months.
When he was a builder, he drove all over the country, built houses, dorms, schools and then arrived at the Stavropol Krai. And once his brigade was given the task of building a church. Then by his words, she appeared to him for the first time the Holy Virgin and ordered him to be baptized. Then he went and got baptized. In the second phenomenon, the Mother of God called him to walk and he immediately responded to Her call.
But why he crawled on his knees for 400 km. We ask ourselves? The meaning of his mission - to bring people back to the faith they have retreated from.
Heading on the long journey, the unusual pilgrim who protected his knees with his own hand-made tarp knee pads. However, he suffered very deeply physically. In front of him, he also pushed a cart full of things. Nighted in the forests around the road, ignoring the weather.
Now Alexander is not among us. His Kingdom of Heaven! But hopefully his feat makes us think...
fb profil na
Православна България / Orthodox Bulgaria